DDS Calorimeters Lessons
Discover how DDS Calorimeters can work for you; learn how to apply the CAL3K technology in your industry with how-to videos and weekly articles.
WHY DDS CALORIMETERS?
DDS Calorimeters are the designers and manufacturers of the CAL2K and CAL3K range of oxygen bomb calorimeter systems. We offer next generation advanced bomb calorimeter systems with innovative technology and advanced features to suit your analytical needs.
Our calorimeter range is used to determine the calorific value of liquid and solid samples and is manufactured with various applications mind, including but not limited to : animal feed research, waste product analysis, explosives analysis, fuel and oil analysis, coal and coke analysis, food & nutrition and university research.
The DDS product range ranges from entry-level systems for low sample throughput, to advanced automatic systems that require little to no operator input. We've also introduced our CAL3K-U bomb calorimeter specifically designed for university applications as a cost-effective solution to your analytical requirements.
Explore Options
CAL3K-F CALORIMETER
A flexible system for low to high throughput without compromising on accuracy and repeatability. It is used in Food/Feed Analysis, Alternative Energy, Scientific Determinations, Coal and Oil Production, research and Quality Assurance. In short : where the calorific value of a solid/liquid sample must be determined.
View Product
CAL3K-U CALORIMETER
The CAL3K-U is the University Edition in the CAL3K range, mainly suited for universities and educational institutions. It is best suited for a production environment which requires robust, fast, and accurate results. The CAL3K-U Calorimeter can be used in the following educational areas : Thermodynamics Teaching, Combustion Energy of non-gaseous substances, Safety, Research and Quality Control.
View Product
CAL3K-A CALORIMETER
The CAL3K-A is best suited for a production environment with shared oxygen supply (to other users) and robust handling. One external oxygen filling station can service multiple CAL3K Calorimeter Systems. The DDS Calorimeters range can be used to determine the calorific value of solid and liquid combustibles including oil, coke, volatile fuels, biomass, plastic, coal, animal feeds and food stuffs.
View Product
RECENT ARTICLES
Recent articles from the DDS Calorimeters Blog. Stay in touch with the latest releases and developments.
WHAT OUR CUSTOMERS ARE SAYING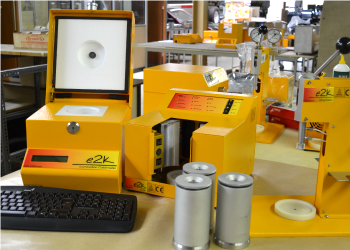 Prof. Dr. Emilian Mosnegutu (University of Bacau, Romania)
By using the E2K Bomb Calorimeter I could achieve a wide variety of experimental research, in this way bringing a major contribution to knowledge on the incineration of different materials (mainly solid waste). Possibility of equipment to determine the strength of incineration of different types of material it offers a versatility in use, which makes it superior to other types of equipment which currently exist on the market.
Michael Wise (International Paper in Alabama, USA)
We have been using the E2K Standard System which we purchased in May 2008. We are using the E2K to analyze wood waste samples - hardwood and pine chips, sawdust, etc. We also analyze crosstie samples which is the wood beam that is found on railroad tracks, and analyze approximately 150 samples per month. We run, on average about 150 CV's a month, and the unit is still going strong.
SAS Technology and Environment Laboratory
SAS Technology and Environment Laboratory are using their DDS Calorimeter for the analyses of hazardous waste with final disposal in incineration ovens. The determination of the Calorific Value of this type of waste is analyzed to determine the residual energy value in order to create the high calorie energy balance required for the incineration furnaces.
Makki (University of Bahrain, College of Science)
We mainly use the CAL2K Bomb Calorimeter for teaching purposes. Physical Chemistry students are using it for the determination of the heat of combustion. Two compounds are used in the experiments run by the students : Solid (Naphthalene) and Liquid (Benzene). Some of the University academic staff also use the CAL2K from time to time for research applications (for example, food stuff applications). Working on the CAL2K, our students find it easy to use, yet powerful enough. It is the ideal teaching instrument. Our students enjoy talking to CAL2K. As for me, I believe that CAL2K Bomb Calorimeter is the best machine money can buy.
DO YOU HAVE ANY QUESTIONS?
Contact our team to request a price comparison or if you have any questions regarding our products.