CAL3K-F Oxygen Bomb Calorimeter System
A HIGHLY EXPANDABLE SYSTEM TO GROW AS YOUR LAB GROWS - The CAL3K-F is a flexible system for low to high throughput without compromising on accuracy and repeatability.
APPLICATION : A flexible system typically used in Food/Feed Analysis, Alternative Energy, Scientific Determinations, Coal and Oil Production, Research, Universities and Quality Assurance. In short : wherever the calorific value of a solid or liquid sample must be determined.
Start off with the basic-level system containing the calorimeter, 1 x bayonet bomb vessel, air cooler and oxygen filling station, can complete up to 4 samples per hour, and grow your system as your budget grows to an standard system containing 1 air coolers (3K-2) and 2 bayonet bomb vessels (3K-5). The standard system can complete up to 6 samples per hour. Part of the CAL3K-F system is the external oxygen filling station (3K-3). The waterless cooler (3K-2) is a powerful air cooler with the ability to rapidly cool the bomb vessel, yet remain environmentally friendly. The sample repeat speed ranges between 7-8 minutes per sample, depending on the system configuration.
The CAL3K-F is expandable with 2 different system options available.
Learn more about the different system options, the sample throughput per hour and determination time per sample.
The CAL3K-S is a single vessel system for low sample requirements. It is the most economical calorimeter.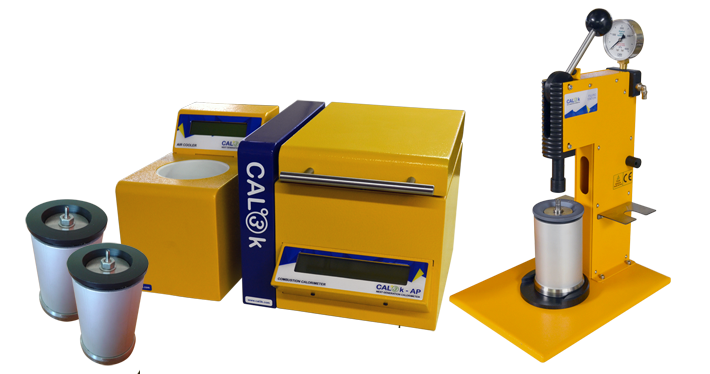 Our top of the range product is our faster calorimeter in the CAL3K range.
The CAL3K-A is best suited for a production environment with shared oxygen supply (to other users) and robust handling.