CAL3K-S Oxygen Bomb Calorimeter System
The Cal3k-S Bomb Calorimeter is a powerful entry level system for low throughput without compromising on accuracy and repeatability. The Cal3k-S calorimeter has a compact size, low energy consumption and boasts a large list of features with an unbeatable price tag.
The CAL3K-S system includes a calorimeter, standard thread bomb vessel with upgraded CPU and oxygen filling station. A spare bomb vessel (3K-5S) can be purchased as a spare, however this will not increase the speed of the calorimeter system. The calorimeter system can complete 2.5 sample per hour. Part of the CAL3K-S system is the external oxygen filling station (3K-3), standard across all manual filling calorimeter systems. The CAL3K-S is a totally dry type calorimeter, making it environmentally friendly and energy efficient. The CAL3K-S also boasts the smallest carbon footprint in its class. Built into the CAL3K-S is an onboard cooler. The cooler is part of the calorimeter and is turned on automatically when the LID of the calorimeter is opened after a determination.
APPLICATION: An economical system is typically used in applications where low sample analysis is required, like in Food/Feed Analysis, Alternative Energy, Manufacturing, Coal and Oil Production, Research, Universities and Quality Assurance. In short : wherever the calorific value of a solid or liquid sample must be determined, the Cal3k-S is the economical calorimeter of choice.
MORE ACCURATE RESULTS: The CAL3K-S is an extremely accurate calorimeter systems and is ideal suited for budget applications, capable of 2.5 samples per hour. It uses an Isothermal calorimetry methods and is still waterless and environmentally friendly. The minimum determination time for the first sample is as little as 6 minutes, thereafter the bomb vessel needs to cooled, requiring time. The CAL3K-S makes use of the external oxygen filling station and threaded bomb vessel. The cooler is incorporated into the CAL3K-S calorimeter making for a compact size. The vessel is filled with oxygen in an EXTERNAL, manually operated, filling station which has a flow restriction and oxygen filter. This filing station is standard across the CAL3K-A, CAL3K-F, CAL3K-S and CAL3K-ST.
The Cal3k-S Oxygen Bomb Calorimeter is economically positioned to be an affordable entry type calorimeter with features its competitors wished they had.
The system uses the proven thread-type vessel and works in the dynamic (isoperibol) mode. It has two communication ports with dual purposes, catering for almost every application.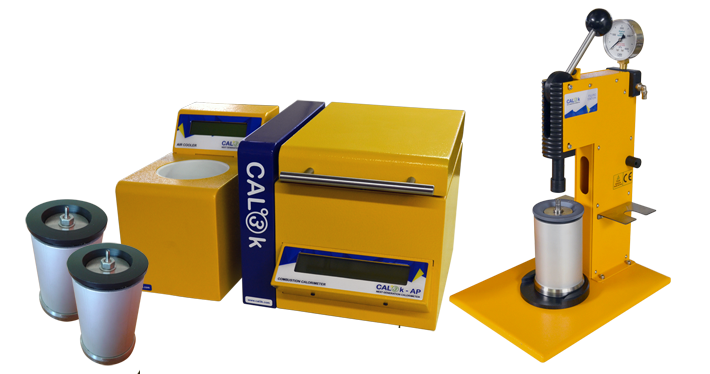 Our top of the range product is our faster calorimeter in the CAL3K range.
The CAL3K-F is a flexible system for low to high throughput without compromising on accuracy and repeatability.
The CAL3K-A is best suited for a production environment with shared oxygen supply (to other users) and robust handling.