CAL3K-U FEATURES
FILTER DATA ON EVENTS

Extensive testing and detailed data viewing

SEVEN CALIBRATION FIELDS

For different mode and different calorimeters

TEMPERATURE ACCURACY

Temperature accuracy of 10ppm (parts per million)(0.00001°C)
STEP-BY-STEP HELP

Screen prompts assist with step-by-step instructions to operate the calorimeter

BAYONET BOMB VESSEL

Self-Locking and Self-Sealing manual bayonet bomb vessel

FAULT FINDING

Extensive fault finding and testing
HIGH SPEED DETERMINATIONS

Choose between faster or more accurate determinations

RESULTS

Results in MJ/Kg, BTU/Ib or Callg

AIR COOLER

No water required to cool the bomb vessel
EXTREMELY ACCURATE

Extremely accurate (%RSD – 0.05%) determination eliminates multiple sample repeats

COMPENSATION*

Compensation for firing energy and sulphur

BALANCE INTERFACE

Balance interface with baud speed setting
MULTIPLE COMM CHANNELS

1 Wired (USB) and 2 optional wireless channels

PRESET FIELDS

One default setting per mode

IMPROVED INITIAL TIMING

Based on drift and time, or time after drift
USER FRIENDLY

User Friendly Operation

OPERATING PARAMETERS

Operating parameters can be changed via USB interface in experimental mode

FULL LIMS SUPPORT

For the assignment, scheduling, and tracking of samples
10 CALIBRATION AVERAGE

For variable amount of calibration average to suit your application

RESTRICT ACCESS

Operating parameter access is password restricted

SAFETY

Safety checks guarantee the safety of the operator
ECO FRIENDLY

Eco Friendly – small carbon footprint. No water, low power consumption

LOW POWER CONSUMPTION

Very low power consumption. No temperature controlling required

LARGE STORAGE

Up to 350 results storage
TEMPERATURE RANGE

Extensive temperature range from 0°C to 70°C

LINEAR SENSORS

Linear temperature sensing with platinum sensors

INTELLIGENT VESSEL

Intelligent vessel with built-in temperature sensing
EVENT LOGGING
Built-in event logging for ~6000 events
NO WATER REQUIRED

No Water Bucket. No Spillage.No Measuring

MANUAL OXYGEN FILLING

Makes use of an external oxygen filling station
CAL3K-A BOMB CALORIMETER SYSTEM
The CAL3K-A is best suited for a production environment with shared oxygen supply (to other users) and robust handling.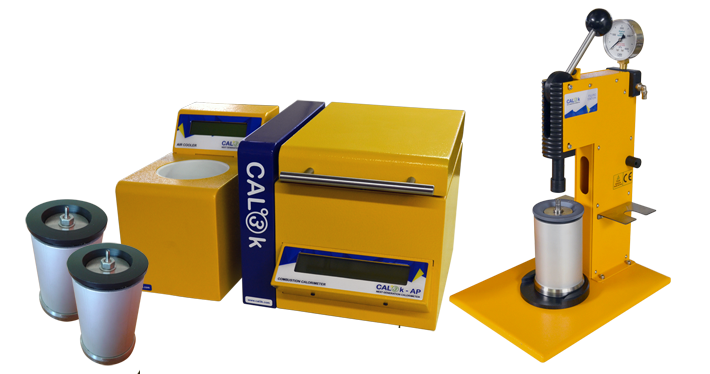 CAL3K-AP BOMB CALORIMETER SYSTEM
Our top of the range product is our faster calorimeter in the CAL3K range.
CAL3K-F BOMB CALORIMETER SYSTEM
The CAL3K-F is a flexible system for low to high throughput without compromising on accuracy and repeatability.